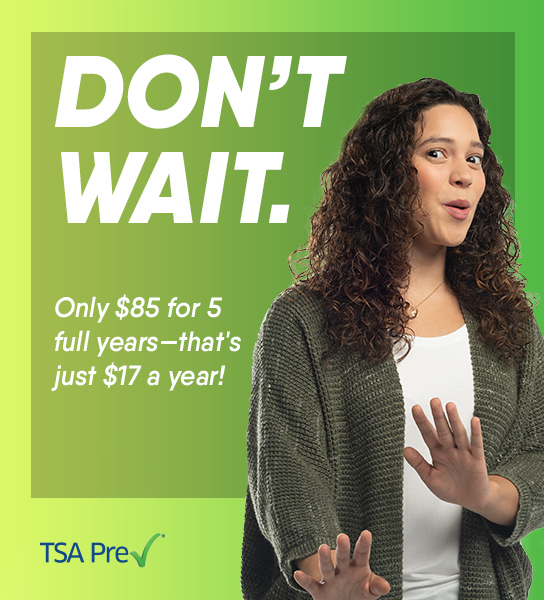 Sign up for ​TSA Pre✓® today.
Nobody waits for anything anymore. Why are you?
TSA Pre✓® makes airport travel easier. No more winded sprints, panicked unpacking, or awkward belt removal. Just 5 years of stress-free security speed—and it takes less than 10 minutes to sign up. What are you waiting for? 

SIGN UP
---
Interested in renewing your TSA Pre✓® membership? You can do so online or in person at any IdentoGO Center within six months prior to your KTN expiration date. Click "Renew Now" to check your expiration date.

---
Speed through security for the next 5 years.
TSA Pre✓® allows approved low-risk travelers to experience faster, more efficient TSA screenings at participating US airport checkpoints for 5 full years—all for only $85. That's only $17 a year for adults, and kids under 12 are free! There are hundreds of locations to get fingerprinted, so you can find one that's convenient for you.
---
How does it work?
Pre-enroll online
Schedule a five-minute-or-less fingerprinting appointment
Get a Known Traveler Number (KTN)
Use it whenever you book a flight
Go into designated TSA Pre✓® lines at the airport
Save time and do your stress-free happy dance
---
No need to remove shoes, belts, light jackets, laptops or 3-1-1 compliant liquids!