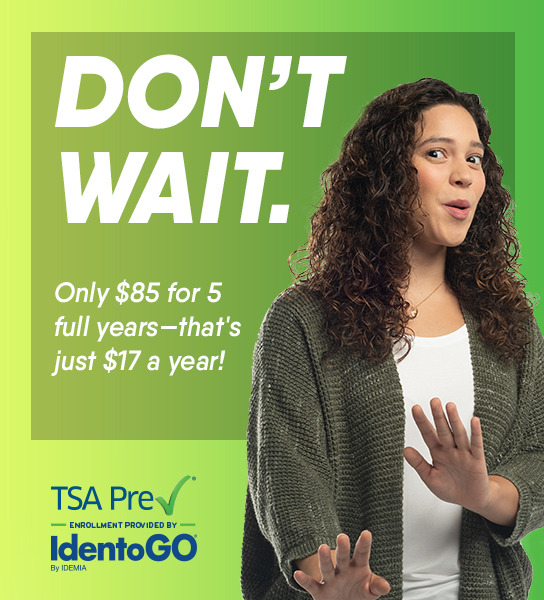 ​TSA Pre✓® Enrollment Provided by IdentoGO
Start Application Now!
---
Wait 5 Minutes or Less! In September 2018, 94% of TSA Pre✓® passengers waited less than 5 min.*
Enroll now to become part of an expedited screening program that helps take the stress out of travel. Click the Start Application Now button to pre-enroll (10-minute process). Then you can schedule an appointment at one of our IdentoGO centers or airport locations near you to complete the 5-minute fingerprinting process and be on your way to faster travel!
---
Interested in renewing your TSA Pre✓® membership? You can do so online or in person at any IdentoGO Center within six months prior to your KTN expiration date. Click "Renew Now" to check your expiration date.
How does TSA Pre✓® work?
If you're eligible and approved for the TSA Pre✓® program, you will be given a Known Traveler Number "KTN" to use when making flight reservations. KTNs can also be saved in an airline or travel agency profile. Participating airlines will print a TSA Pre✓® indicator on your boarding pass. When you arrive at the airport, look for signs for the TSA Pre✓® lanes and present your boarding pass and Government-issued ID to the Travel Document Checker. Children ages 12 and under may join you in the TSA Pre✓® lane.
*Data from TSA website
---
No need to remove shoes, belts, light jackets, laptops or 3-1-1 compliant liquids!