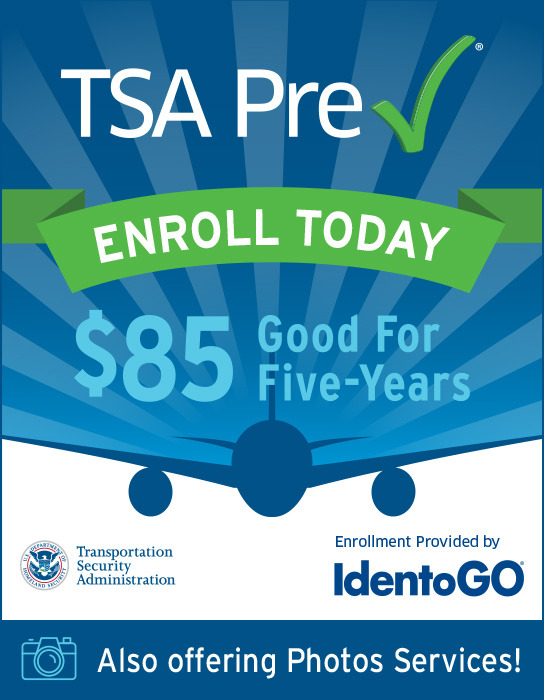 ​TSA PreCheck®
Enroll now at

Enrolling in TSA PreCheck® just became even easier! IdentoGO, enrollment provider for TSA PreCheck® is opening new centers in Staples retail stores, with plans for further expansion. 
TSA PreCheck® allows trusted travelers to breeze through airport security by keeping on their jacket, belt and shoes, while electronics and 3-1-1 compliant liquids stay packed in bags!  What are you waiting for? Start your application now and schedule an appointment at a participating Staples location near you to complete the 5-minute fingerprinting process. 
Don't forget to ask Staples sales representatives about our professional photo service too!
Start Application Now!
---
How does TSA PreCheck® work?

If you're eligible and approved for the TSA PreCheck® program, you will be given a Known Traveler Number "KTN" to use when making flight reservations. KTNs can also be saved in an airline or travel agency profile. Participating airlines will print a TSA PreCheck® indicator on your boarding pass. When you arrive at the airport, look for signs for the TSA PreCheck® lanes and present your boarding pass and Government-issued ID to the Travel Document Checker. Children ages 12 and under may join you in the TSA PreCheck® lane.
*Data from TSA website
No need to remove shoes, belts, light jackets, laptops or 3-1-1 compliant liquids!