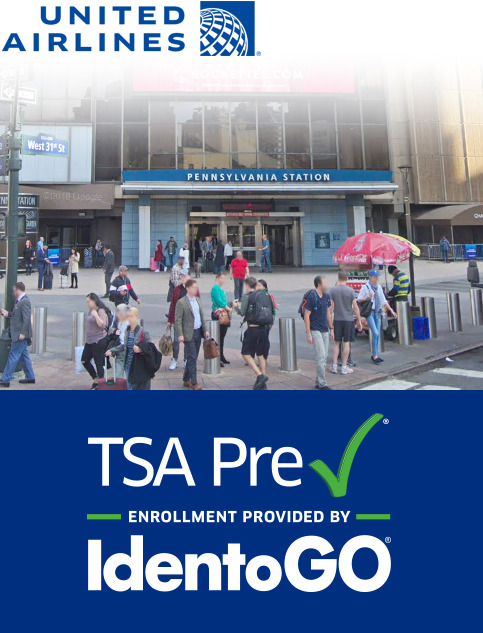 United Airlines® - Penn Station
***This Pop-Up TSA Pre✓® Enrollment Event will be closed from Monday, 3/16/20 through Friday, 3/20/20. Please visit https://universalenroll.dhs.gov/ to locate an alternate enrollment center; to make, check or update an appointment; and for additional information on TWIC, HTAP and TSA Pre ✓®.***
Enroll for TSA Pre✓®, March 3-27, 2020 at Pennsylvania Station, United Airlines Ticketing Office located on the Main Concourse (Amtrak waiting room level) of Penn Station closest to the 7th Avenue entrance, (next to the GNC Store).
Enroll now to become part of an expedited screening program that helps take the stress out of travel. Click the Start Application Now button to pre-enroll (10-minute process) and can schedule an appointment to complete the 5-minute fingerprinting process.
Start Application Now!
---
January 13, 2020-March 27, 2020
Monday, January 13th - Friday, March 6th , 2020 7:30 AM – 4:30 PM; Monday, March 9th 7:30 AM - 11:00 am & 12:00 PM - 4:30 PM; Tuesday, March 10th – Friday March 20th 7:30 AM – 4:30 PM; and Monday, March 23rd – Friday March 27th 7:30 AM - 11:00 am & 12:00 PM - 4:30 PM. Closed Saturday - Sunday.
---
Use your United MileagePlus® miles to cover the $85 application fee for 5 years of TSA Pre✓®!
What to Bring
Government issued I.D. (i.e. Driver's License), proof of citizenship (i.e. Birth Certificate or Passport), See a complete list of acceptable identity documents.
$85 fee for 5-year membership (that's only $17 a year!). Credit card payments only. No cash accepted.
---